Spring has finally sprung (emphasis on finally) and the Melbourne Spring Racing season is upon us! If you are a planning on enjoying a day trackside, it's time to get your outfit finalizsed so you are looking and feeling fab on the day!
The tricky part can be deciding what to wear on your head. Come racing season, we all know how to frock up: pick a style dress that suits you and also goes with the theme of the day. However, when it comes to deciding how to style your hair and the accessory that goes along with it, things can get a bit tricky.
First of all, look for a fascinator or hat that will be comfortable for the entire day. A flimsy hair piece secured by a few pins will end in disaster if you plan on outrageously cheering on your horse trackside! Look for something that feels secure, and that wont ruin your hairstyle should you need to readjust it during the day (which you probably will). tip: Head bands are a good choice!
It is also important to consider how you usually style your hair for special occasions, as you probably feel most comfortable with your hair this way. Choose a fascinator that will allow you to wear your hair this way and you will feel so much better, rather than styling your hair in a way that doesn't usually suit you.
A structured, geometric hairpiece works well styled with a soft, simple hair up. Go for this look if your hair is fine and tends to go limp and flat by the end of a long day.
Sleek and smooth is an easy classic to try- keep it on trend this season with a crowned headband, which is comfortable and easy to wear. Don't forget to finish wish a serum!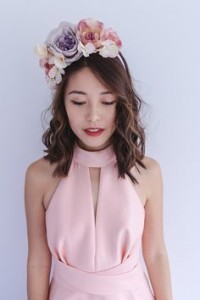 For a pop of colour, and if you like to wear your hair down a bit more on the textured side, you can't go past a flower crown. Easy to style as it looks amazing just popped on your head! Sea salt spray will add texture to finer hair for this look.
If you are not big on hair pieces or OTT fascinators, a metallic band can amp up your pony tail and give you a more 'race day' look. Great for keeping it simple and off your face for those windy days. Tip: try this look with a high pony for a more glam look!
For our boho sisters, braids and flowers are the perfect accessory to compliment your style. Great for longer, thicker hair with natural texture, and if you prefer a more laid back look to your race day hair.
Happy styling! X